Learn to Ski Scholarship Weeks
Adaptive Sports Association hosts Learn to Ski Scholarships with the objective of increasing support for out-of-state, first-time skiers, and snowboarders. In turn, these new participants help develop new relationships with recreational therapists, service clubs, support groups, and disability organizations to ensure even more participation in adaptive sports.
ASA believes this will enhance the lives of an increasing number of people with disabilities by offering a new area of self-fulfillment. The statements of the overwhelming majority of past scholarship recipients have convinced us that the testimonial of just one person whose life has been changed by this experience can open the door for many others.
Scholarships include 4 days of one-on-one adaptive snowsport instruction, lift tickets, all necessary equipment, 5 night of lodging (either volunteer host home or hotel), transportation to Durango, and most meals.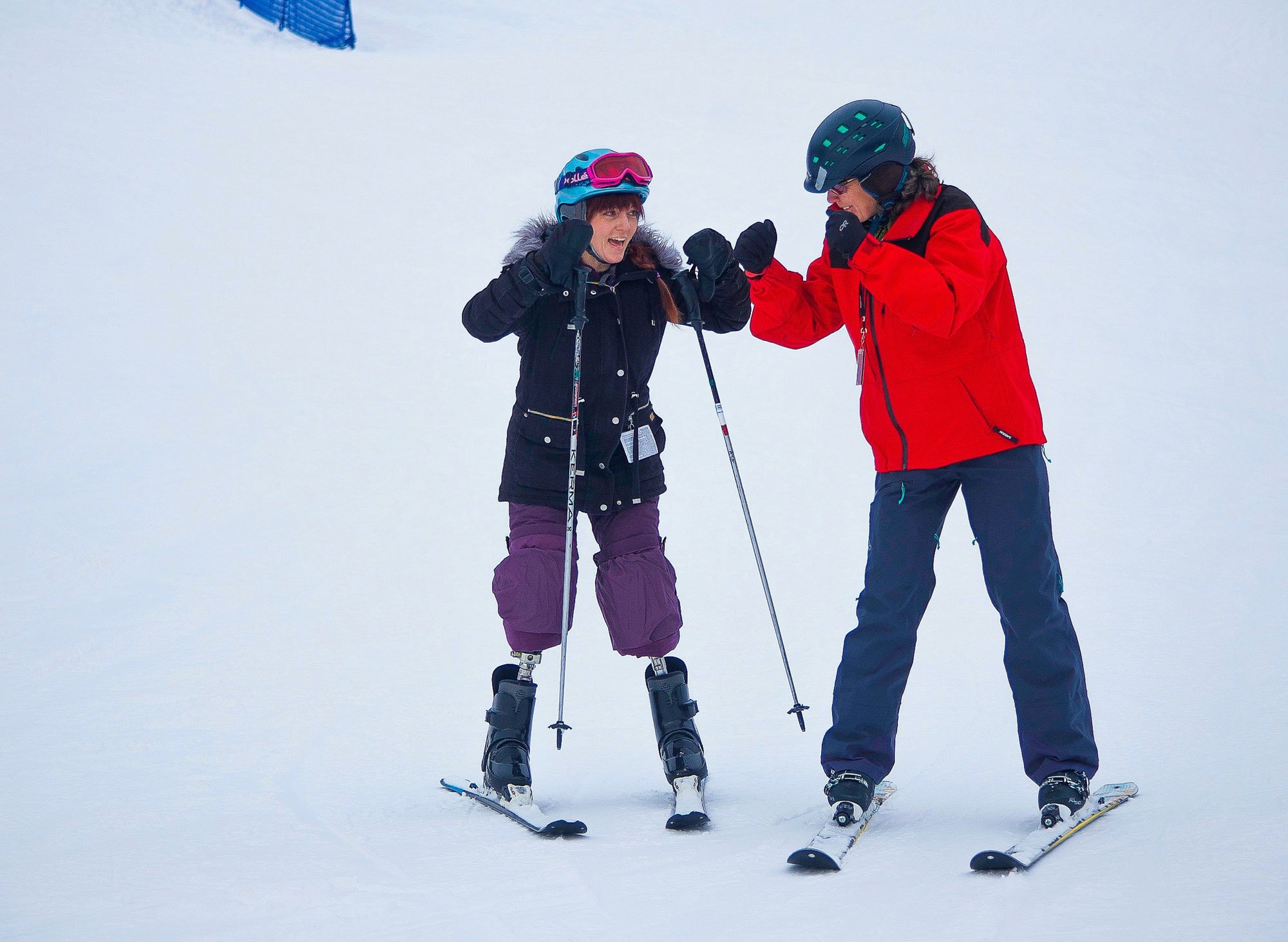 New Dimensions Program
Established in 1999, more than 100 individuals with physical disabilities have participated in the New Dimensions Program. This program is open to individuals from all over the country with physical disabilities. Preference is given to first-time adaptive skiers/snowboarders, however this is not a requirement.
The New Dimensions Program will be held the following weeks:
Session #1: January 9, 2023-January 14, 2023
Session #2 January 16, 2023- January 21, 2023
Applications close on November 15, 2022.
Ross and Sue Ehrhardt Program
For Southern California Residents Only
The Adaptive Sports Association (ASA) enjoys very strong ties to the San Diego community. Almost 500 San Diego area residents with various disabilities have participated in the Ross and Sue Ehrhardt Ski Scholarship Program over the last twenty years. This program is fully funded by the Torrey Pines Kiwanis Foundation.
We are now accepting applications for the 2023 winter season. Applications close on December 15, 2022
The Ross and Sue Ehrhardt Scholarship Program will be held the following weeks:
Session #1 January 23, 2023- January 28, 2022
Session #2 January 30, 2023- February 4, 2023
Session #3 February 6, 2023- February 11, 2023
Session #4 February 13, 2022- February 18, 2022
Madison West Kiwanis Club
For residents of the greater Madison Area Only
The Madison West Kiwanis Club kicked off a fantastic multi-year scholarship program in 2008 with Adaptive Sports. In May 2006, well-known scientist, University of Wisconsin (U of W) alumna, and former faculty member Ethel Allen passed away at 98. The provisions of her estate called for a distribution of funds to the Madison West Kiwanis Club to be used exclusively for scholarships for Madison area residents with disabilities to participate in Adaptive Sports Association (ASA) programming.